Patrick Killoran
… and whatnot.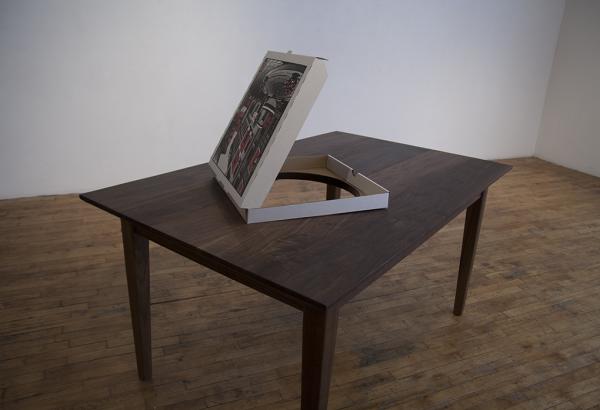 Was it ever?, 2018, 17.5 inch hole enclosed by pizza box and wooden table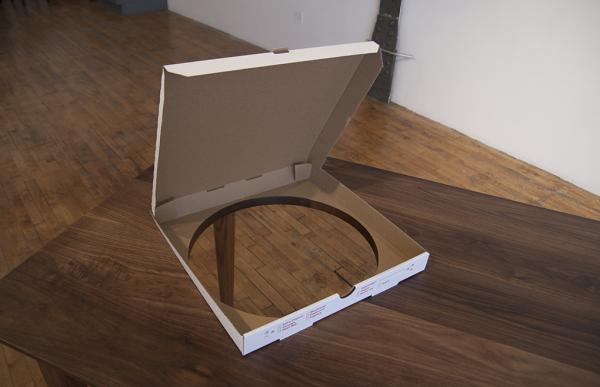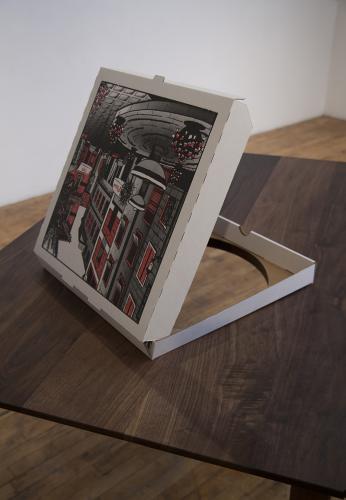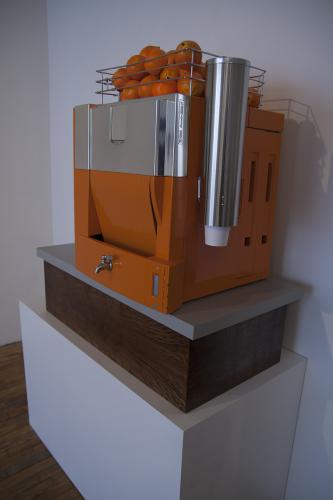 Mashup, 2013, 47 x 28 x 71 inches
Hewlett Packard LaserJet 8100 N printer body and frame, orange juicer parts, beverage dispenser parts, wood, counter top, trash can, paint, chrome finish, cup dispenser, isposale cups, foam oranges or biological oranges and water, high fructose corn syrup and 2% or less of each o the following: concentrated juices (Orange or tangerine,) citric acid, magic acid, ascorbic acid (vitamin C), thiamin hydrochloride (Vitamin B) natural flavors, modified cornstarch, canola oil, sodium citrate, cellulose gum, sucraslse, acesulfame potassium, neotame, sodium hexametaphosphate, potassium sorbet to protect flavor, yellow #5, yellow #6, calcium disodium edta to protect color or 100% Orange Juice or water, his fructose corn syrup and less than 2% of concentrated juices (apple orange), ascorbic acid (vitamin C), alpha tocopherol acetate (vitamin E), vitamin A palmitate, citric acid, natural flavors, pectin, canola oil, modified corn starch, yellow 5 yellow 6, sucrose, sucrose acetate isobutyrate, sodium citrate, potassium sorbet and sodium hexametaphosphate (preservatives), calcium disodium edta (to protect color) or 100% orange juice from concentrate contains pure filtered water, premium concentrated orange juice, orange pulp or water, sugar, fructose citric acid, (provides tartness) contains less than 2%natural flavor, ascorbic acid (vitamin C), maltodextrin, calcium phosphate, guar and xanthin gums (provide body), sodium acid pyrophosphate, artificial color, yellow 5 yellow 6, BHA (To help protect flavor) Viewers are encouraged to taste the beverage.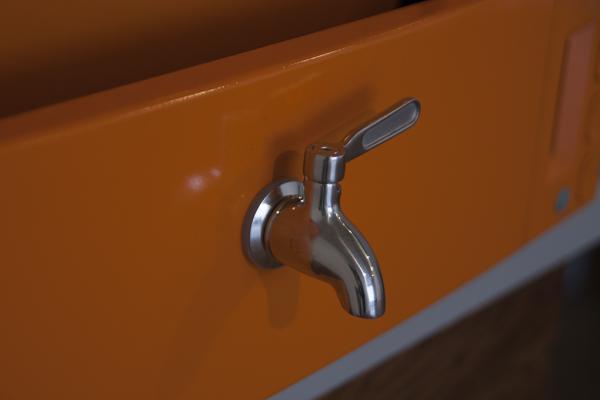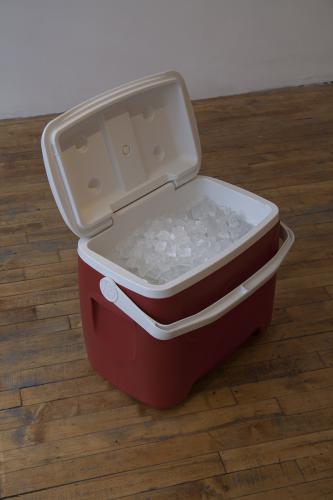 An Inconspicuous Addition, 2011, Rough diamond, melting ice and cooler. The diamond is visible once the ice melts.
A pile of ice is presented in a cooler. Not immediately apparent to the viewer, there is a rough diamond added to the pile of ide. The diamond is only visible once the ice melts. The water is replaced with ice and the diamond placed in the pile again. The cycle repeats for the length of the exhibition.